Adenomyosis
It can be scary to experience a wide range of uncomfortable and often painful gynecological symptoms. But when your internist at Century Medical and Dental Center is part of a multi-disciplinary team of experts, including leading gynecologists, you have access to the best diagnostic tools and treatment techniques. A diagnosis of adenomyosis, for example, can be caused by so many different factors, and treated with such a variety of modalities, that you need someone familiar with the condition to provide your care.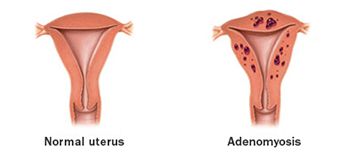 Adenomyosis is a gynecological condition in which the cells that normally line the inside of your uterus suddenly start growing into the muscular wall of the uterus. This causes the uterine wall to thicken, enlarging the uterus. Your gynecologist at Century Medical and Dental Center in Brooklyn has to examine you thoroughly to rule out other uterus diseases, such as endometriosis, which shares many of the same symptoms.
Common symptoms of adenomyosis include:
Understanding Your Risk
Many women don't even realize they have adenomyosis, as the condition often is asymptomatic. Usually, you get a combination of symptoms, which is why diagnosis is so difficult. The actual cause of the condition is still unknown, although research is ongoing within the medical community. Some theories suggest a genetic component, some form of invasive tissue growth or even invasion from new stem cells.
There does seem to be a strong relationship between adenomyosis and pregnancy. Women between the ages of 40 and 50 who have given birth multiple times are more likely to contract the disease, especially if you had any uterine surgery, like a C-section, or you needed surgical intervention during a miscarriage. You may also be at risk if you ever had an abortion.
Other medical factors that can contribute to the development of adenomyosis include:
A myometrial cyst
An ovarian cyst
Bladder prolapse
The cancer medication Tamoxifen
Distinguishing Adenomyosis from Other Conditions
Distinguishing between adenomyosis vs. endometriosis is the first step for your gynecologist. Both conditions cause similar symptoms. The difference is, with endometriosis, the abnormal cells grow outside of the uterus.
Another issue for your Brooklyn gynecologist to consider is adenomyosis and cancer, since the chances of getting thyroid or endometrial cancer is high when you experience uterus diseases. Your doctor may suggest a cancer screening test, such as an endometrial or cervical cone biopsy, especially if the last results from your annual exam showed an abnormal Pap smear for no known reason.
Diagnosing Adenomyosis
You most likely have to undergo a pelvic exam to check for any abnormality or infections. Your uterus may be so tender that you feel the enlarged organ. Sometimes, you may need a urodynamics test to check the pressure in your bladder, which gives your doctor more clues about your condition.
An adenomyosis ultrasound uses high-frequency sound waves to create a sonogram image that helps your gynecologist differentiate between uterine fibroids and the thickened uterus wall formed by adenomyosis. If the images require further testing, your doctor may order an MRI to get high-resolution images of your uterus. Treatment recommendations from your gynecologist depend entirely on the findings.
Patient Experience
"Friendly doctors and staff! Office was clean and comfortable. Doctor was caring and knowledgeable, taking time to really listen to me and answer all my questions." - Katie Thigpen
Downtown Brooklyn
200 Livingston Str,
Brooklyn, NY 11201
Flatbush
770 Flatbush Ave
Brooklyn, NY 11226
Manhattan
827 11th Ave
Manhattan, NY 10019
Gravesend
260 Ave X
Brooklyn, NY 11223
Myrtle
180 Myrtle Ave
Brooklyn, NY 11201
Treatment for the Adenomyosis Condition
When your symptoms aren't severe or you're trying to get pregnant, your doctor may recommend over-the-counter medications to curb the pain. Soaking in warm water, using a hot water bottle or applying a heating pad on your lower abdomen provides menstrual cramp relief. The pain usually is intensified if you carry extra weight. A session with a experienced physical therapist at Century Medical and Dental Center helps you devise a nutritional and exercise plan to lose weight and reduce your symptoms.
If your pain is unmanageable, your gynecologist may recommend a few alternative treatment options such as:
Birth control pills
Vaginal rings or patches with hormones
Uterine artery embolization that cuts the blood supply to the abnormality in your uterus
Endometrial ablation to break up the uterus lining
Medications like gonadotropin-releasing hormone agonists
A hysterectomy is the last resort for women in pain, but you can't get pregnant after the procedure. If you're near menopause, consider holding off from this drastic surgery because adenomyosis symptoms tend to disappear when menopause starts. The most important first step is to make an appointment with your doctor at Century Medical and Dental Center to get a firm diagnosis and treatment recommendations, based on the expertise and experience of a renowned Downtown Brooklyn general physicians.