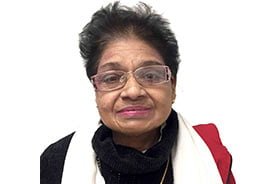 Nidhiry Thriesiamma, MD
About Brooklyn Psychiatrist Dr. Nidhiry Thriesiamma
Nidhiry Thriesiamma, MD, has been treating patients since 1987. But now, she's a board-certified psychiatrist in Brooklyn, one of the many specialties represented at the Century Medical and Dental Center in Brooklyn. Along with her psychiatry colleagues, Dr. Thriesiamma treats a number of mental health issues, including:
Depression
Anxiety
Personality disorders
Psychiatric disorders
Cognitive problems
Hypochondria
Psychotic disorders
Eating disorders
Psychiatric Treatment Methods
The therapeutic, social and physical treatments that Dr. Thriesiamma offers gives her many options as a psychiatrist for helping a greater number of people. The most common treatment methods Dr. Thriesiamma uses are medication and talk therapy. Both involve a conversation that leads to healing.
The use of medications is a tried and tested way to treat some psychological disorders. During talk therapy, Dr. Thriesiamma gets you or your loved one to express thoughts and feelings. During the conversation, she recognizes your real personality and the problems you're having. Then she suggests appropriate treatment. She may recommend hospitalization in more serious cases.
Schizophrenia and bipolar disorder are two dangerous psychiatric disorders. Dr. Thriesiamma often administers medications to keep symptoms under control. She appreciates how delicate your psyche is, so she analyses you completely before prescribing a medication. With her experience and manner, she succeeds by getting you the help and guidance you need. In some cases Dr. Thriesiamma might refer you to another internal medicine or primary care Brooklyn doctor for additional evaluation.
Training and Education in Psychiatry
Dr. Thriesiamma got her Bachelor of Arts degree the University of Kerala. He earned her MD degree from the University of Genoa. She completed her residency in Adult Psychology at the Kingsboro Psychiatric Center. She also completed a fellowship in Child Psychology at Brookdale University.
She's also working at the SEL Medical Center and the Neighborhood Community Center. She's fluent in English, Russian and Telugu. Make an appointment to talk with Dr. Thriesiamma.
---
Century Medical and Dental Center, an Article 28 Multi-Specialty Clinic, has been opened since 2000. For your convenience, you may visit any of our three Brooklyn locations. The doctors and staff speak multiple languages. All offices have convenient hours of operations:
Monday to Friday: 8:00 am to 9:00 pm
Saturday and Sunday: 8:00 am to 6:00 pm